March 12, 2021 - Remote Learning Day
Lexington School Community,
Friday, February 19th was the Richland County day for educators to receive their COVID-19 vaccinations as part of the 1B group designated by the state. All county schools sent employees to the Mid-Ohio Educational Service Center (MOESC) through the course of the day to be vaccinated. In order to allow for staff who chose to receive the vaccination to have the freedom to schedule an appointment and travel to and from MOESC, Lexington Local Schools operated a day of remote learning on Friday, February 19th. The dose that the employees received was from Pfizer, which requires a second dose 21 days later. Therefore, Richland County schools will again operate a day of remote learning to receive the vaccine, and Lexington Local Schools will participate. Friday, March 12th will be another day of remote learning so employees can receive the 2nd dose of the COVID-19 vaccine. Much like our first day of remote learning, building administrators and teachers will be reminding students of this day, and will be preparing lessons to accommodate the remote learning day. Students in grades Pre-K – 5 will not need a computer, as paper and pencil lessons will be created. Teachers will be available to answer questions during the day via email, phone, Remind, or DOJO if assistance is needed. Students in grades 6-12 will be utilizing their Chromebooks to complete most assignments.
Thank you in advance for your understanding and support of this opportunity for our school staff, and for trusting Lexington Local Schools with your students. Stay well.
Jeremy Secrist
Superintendent
2021 High School Graduation Date
2021 Lexington High School graduation date has been changed to Friday, June 4th at 7:00 pm in the high school football stadium. Rain dates are as follows: Saturday, June 5th at 7:00 pm or Sunday, June 6th at 7:00 pm.
February 4, 2021 - Facilities Update
Lexington School Family,
One month of our new year is already behind us, and though the pandemic hasn't let go of us yet, it does feel like things are looking up! It is wonderful to have our students back in the buildings, the ground hog, Buckeye Chuck, tells us spring will arrive early, and our construction project continues to march on. Below is this month's installment of our most recent completions, updates, and progress performed by each company currently on site. Stay warm, stay well, and thank you for your support of our schools!
Jeremy Secrist
Superintendent
𝐁𝐞𝐚𝐯𝐞𝐫 𝐂𝐨𝐧𝐬𝐭𝐫𝐮𝐜𝐭𝐢𝐨𝐧
• 𝐒𝐢𝐭𝐞𝐰𝐨𝐫𝐤 𝐂𝐫𝐞𝐰:
• Completed the storm cleanouts at the building pad
• Installed the stone construction access "Ring Road" around the new building pad
• Continued the storm piping at the south access road
• Worked with the Village Water Department and State Fire Marshall to flush & hydro test the new water supply line and fire lines for the building.
• 𝐂𝐚𝐫𝐩𝐞𝐧𝐭𝐞𝐫𝐬:
• Framed & sheathed the roofs for both the home baseball dugout & home softball dugout
• Set and braced the trusses and framed the north overhang for the concession building
𝐕𝐚𝐥𝐞𝐧𝐭𝐢𝐧𝐞 𝐌𝐚𝐬𝐨𝐧𝐫𝐲
• Completed the masonry for all 4 dugouts
• Completed the perimeter masonry for the concession building
𝐂𝐚𝐫𝐭𝐞𝐫 𝐄𝐥𝐞𝐜𝐭𝐫𝐢𝐜
• Continued to work with Valentine Masonry to rough in conduits for power/lighting/fire/communication at the concession building
• Installed the buried power & technology conduits from the school transformer location to the concession transformer location
• Worked with AEP to get poles/power installed down Clever Lane to the school property
• Worked with AEP to pull primary wiring from Clever Lane to the school transformer & concession transformer locations
• Worked with AEP to set both the school & concessions transformers
• Worked with AEP to power up the new school transformer and electrical building utilizing the new primary service; The football complex is no longer powered from the school, it is now supported by the new AEP electrical service.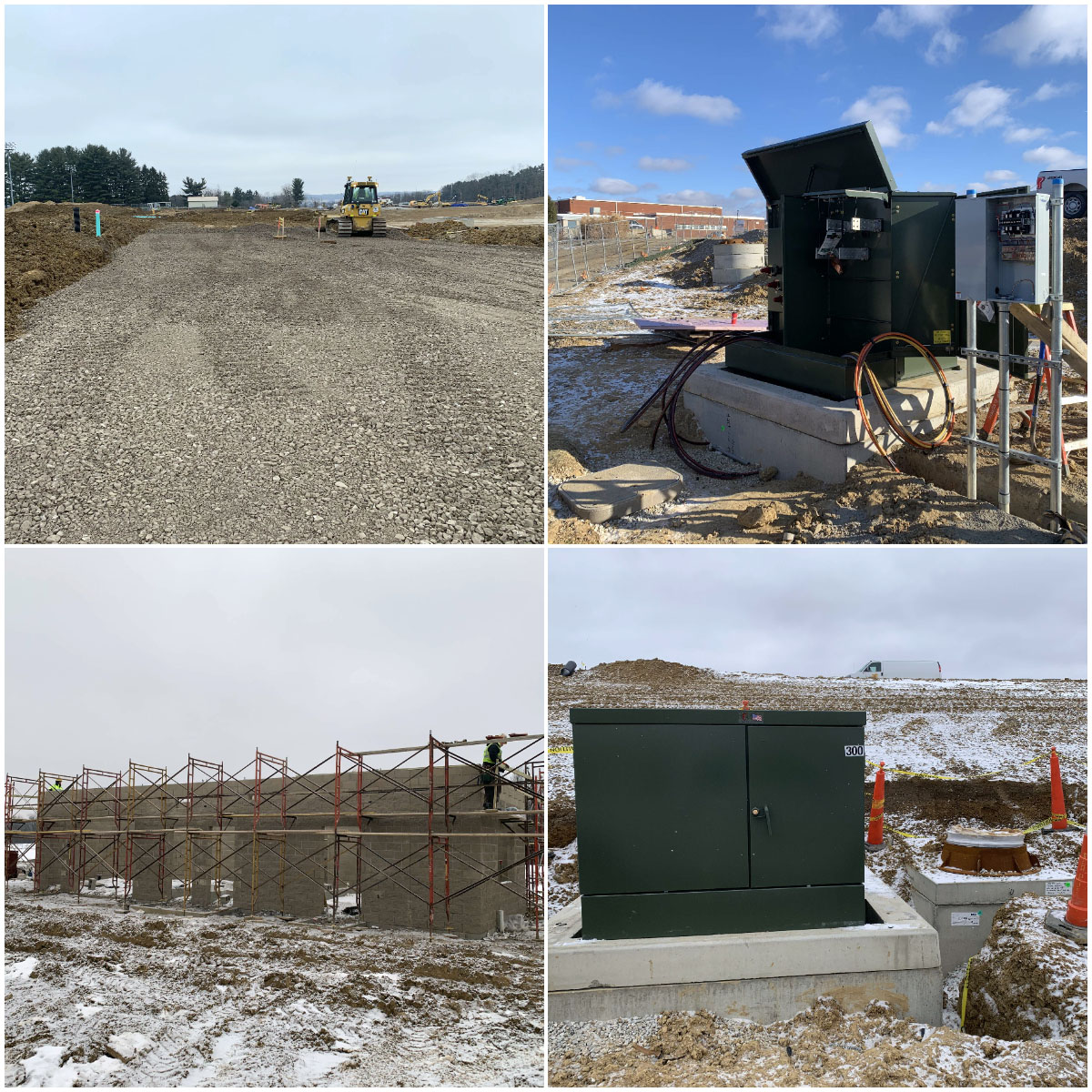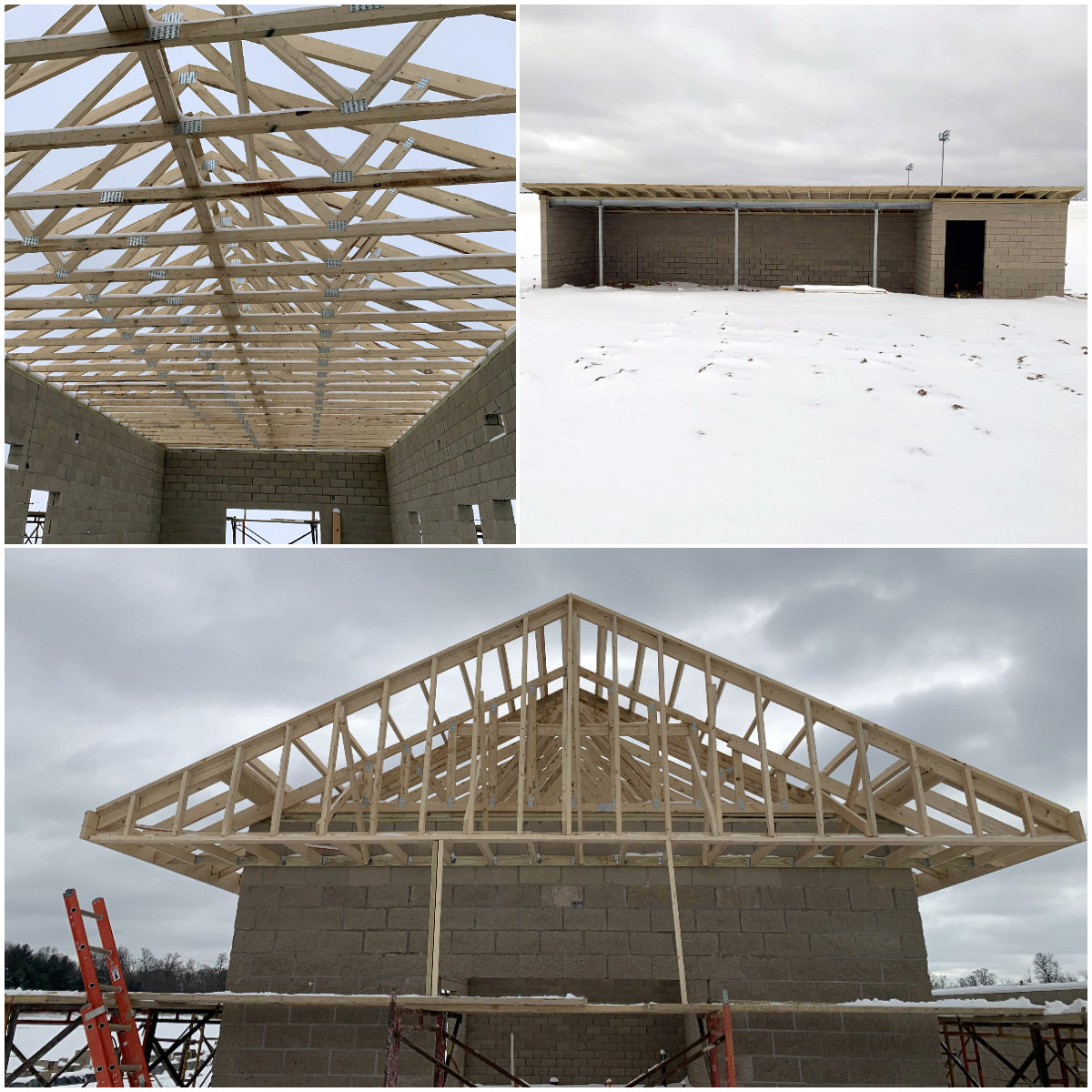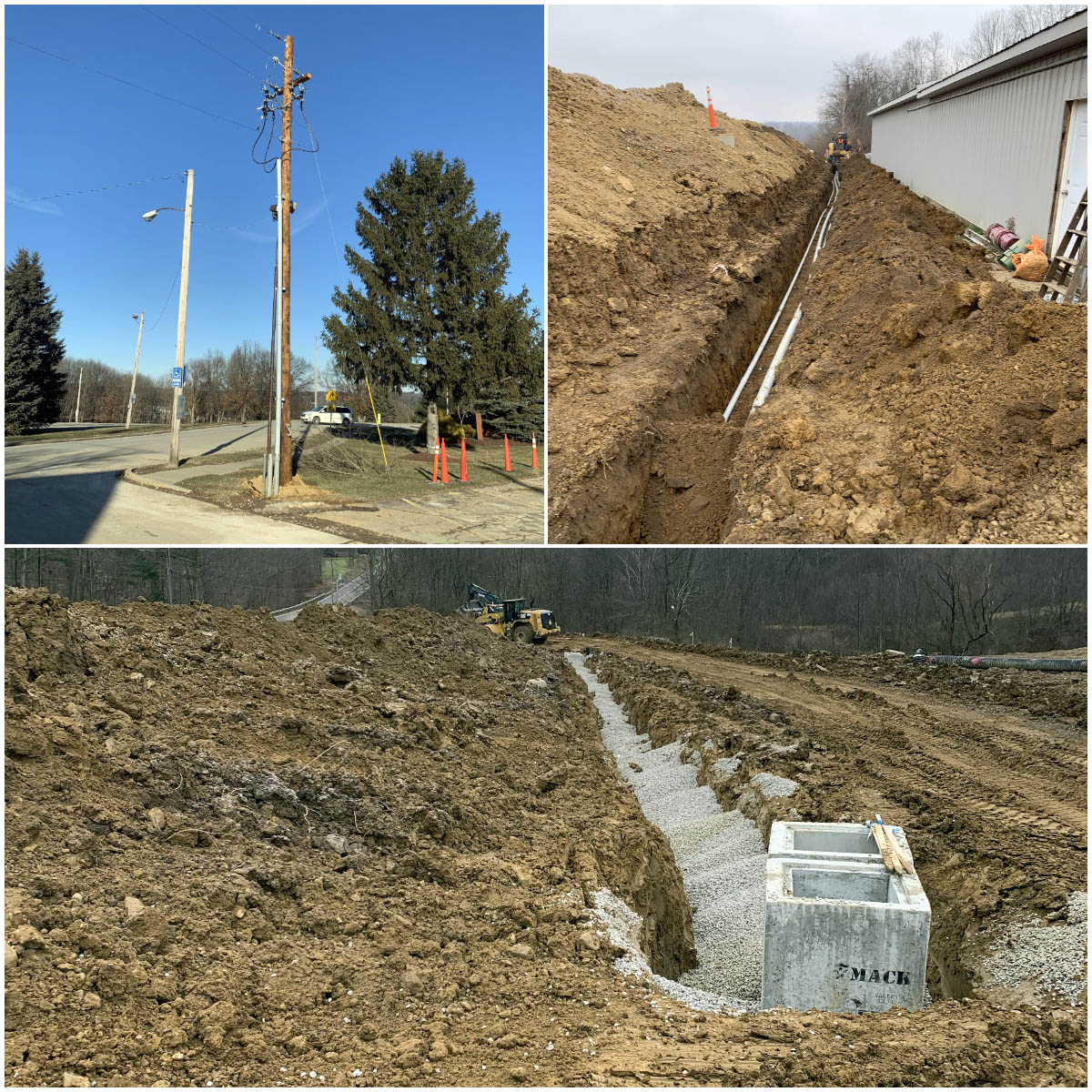 New Text and Email Alert Service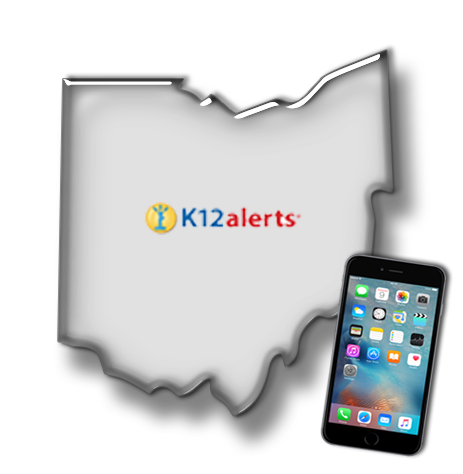 Lexington Schools has updated to a new text and email alert service. The K12Alerts Portal link to sign up/make changes can be found under "Parents & Students" and clicking on "Text and Email Alerts" or by clicking here. If you were previously signed up for district-wide messages, you will still receive those alerts as usual. If you only wish to receive district-wide alerts, you do not need to do anything. If you wish to receive individual school specific alerts as well, those will need to be signed up for again. For existing users, enter your phone number or email address as the username and a password of changeme by default. After signing in, you can change your contact information as well as change the password to one of your choice. Click the "Click here to continue" button at the bottom of the contact information page and select the schools you wish to receive alerts from on the following page. Click "Add" and then "Click to continue" to confirm your selections.
Text and Email Messaging can be used for a variety of reasons such as:
Snow day notifications, school closings or delays
Emergency alerts (school lockdowns)
Alerting parents for delayed school buses
Alerting parents for local dangers
Weather Delays and Cancellation Procedures
Now that we have happily returned to in-person learning and have done so during a typical Ohio winter, I felt it best to remind our school community about our school cancellation and delay procedures. If we have inclement weather overnight or early in the morning, Brenda Welsh, our Transportation Supervisor, and I will drive various roads within our district to assess road conditions. Frequently, the roads that are most problematic are back or side roads, and areas that are not plowed or treated early in the morning. Our first decision regarding cancellation or delay needs to be made by 6:00 am. Brenda and I will be in communication regarding the road conditions from 5:15 am until the decision is made. We want to make the decision to delay or cancel as early as is possible (between 5:30-5:45 is our goal because our first busses head out by 6:15 am). If we decide on a two-hour delay, we will need to determine if we will continue with the delay or to cancel by 8:00 am. Brenda and I will be driving our areas of the district again, prior to discussing the conditions at 7:15 am, until we decide what we need to do (between 7:30-7:45 is our goal at this point).

School decisions are made based on the road conditions in our district. Severe wind chill temperatures will also be a factor in deciding to delay or cancel school. Wind chill temperatures hovering in the -20 range are cause for safety concerns. The safety of everyone coming to our buildings is the priority. This includes students riding our buses, students and staff driving to school, parents bringing children to school, and students who walk to school.

𝐏𝐥𝐞𝐚𝐬𝐞 𝐫𝐞𝐦𝐞𝐦𝐛𝐞𝐫 𝐭𝐡𝐚𝐭 𝐭𝐡𝐞 𝐪𝐮𝐢𝐜𝐤𝐞𝐬𝐭 𝐰𝐚𝐲 𝐟𝐨𝐫 𝐩𝐚𝐫𝐞𝐧𝐭𝐬 𝐚𝐧𝐝 𝐬𝐭𝐚𝐟𝐟 𝐭𝐨 𝐫𝐞𝐜𝐞𝐢𝐯𝐞 𝐢𝐧𝐟𝐨𝐫𝐦𝐚𝐭𝐢𝐨𝐧 𝐫𝐞𝐠𝐚𝐫𝐝𝐢𝐧𝐠 𝐚 𝐝𝐞𝐥𝐚𝐲 𝐨𝐫 𝐜𝐚𝐧𝐜𝐞𝐥𝐥𝐚𝐭𝐢𝐨𝐧 𝐢𝐬 𝐭𝐨 𝐫𝐞𝐠𝐢𝐬𝐭𝐞𝐫 𝐟𝐨𝐫 𝐨𝐮𝐫 𝐀𝐥𝐞𝐫𝐭 𝐬𝐲𝐬𝐭𝐞𝐦, 𝐰𝐡𝐢𝐜𝐡 𝐜𝐚𝐧 𝐛𝐞 𝐟𝐨𝐮𝐧𝐝 𝐨𝐧 𝐭𝐡𝐞 𝐦𝐚𝐢𝐧 𝐰𝐞𝐛𝐩𝐚𝐠𝐞, 𝐨𝐫 𝐭𝐨 𝐫𝐞𝐠𝐢𝐬𝐭𝐞𝐫 𝐟𝐨𝐫 𝐭𝐡𝐞 𝐖𝐌𝐅𝐃 𝐀𝐥𝐞𝐫𝐭 𝐬𝐲𝐬𝐭𝐞𝐦 𝐛𝐲 𝐟𝐨𝐥𝐥𝐨𝐰𝐢𝐧𝐠 𝐭𝐡𝐞 𝐥𝐢𝐧𝐤𝐬 𝐨𝐧 𝐭𝐡𝐞 𝐖𝐌𝐅𝐃 𝐰𝐞𝐛𝐬𝐢𝐭𝐞. 𝐖𝐞 𝐰𝐢𝐥𝐥 𝐚𝐥𝐬𝐨 𝐮𝐬𝐞 𝐨𝐮𝐫 𝐚𝐥𝐞𝐫𝐭 𝐬𝐲𝐬𝐭𝐞𝐦 𝐭𝐨 𝐜𝐨𝐦𝐦𝐮𝐧𝐢𝐜𝐚𝐭𝐞 𝐨𝐭𝐡𝐞𝐫 𝐢𝐦𝐩𝐨𝐫𝐭𝐚𝐧𝐭 𝐢𝐧𝐟𝐨𝐫𝐦𝐚𝐭𝐢𝐨𝐧 𝐚𝐧𝐝 𝐫𝐞𝐦𝐢𝐧𝐝𝐞𝐫𝐬 𝐭𝐡𝐫𝐨𝐮𝐠𝐡𝐨𝐮𝐭 𝐭𝐡𝐞 𝐬𝐜𝐡𝐨𝐨𝐥 𝐲𝐞𝐚𝐫.

Thank you for your continued support of Lexington Local Schools.

Jeremy Secrist
Superintendent
January 15, 2021 Update
I hope the holiday season was a safe and happy one for all of our students and families. We are anxiously awaiting the students returning on Tuesday, January 19th to in-person learning. Thank you for supporting your students and our staff during this period of remote learning. Most of our procedures and protocols will remain the same when students return, but there has been one change so I wanted to update you on that change.


First, please remember to monitor your student for symptoms, and do not send your student to school if they are exhibiting any symptoms of COVID-19 or have a fever. Richland County remains in Level 3, RED, so the procedures for students who are sent to the office will remain the same as prior to our remote learning period. In accordance with the Center for Disease Control (CDC) and Ohio Department of Health (ODH) guidelines, any student sent to the nurse's clinic will be assessed on a Level Two scale due to living in a county with high community transmission. If the school nurse determines to send a student home due to symptoms such as sore throat, cough, body aches, fatigue, runny/stuffy nose, diarrhea, and/or cough, the student must stay home for ten (10) days. This also applies to a student who calls off with any of these symptoms. A student may return after an alternative diagnosis (i.e. sinus infection, flu, strep throat) or a negative COVID-19 test and being symptom free for 24 hours without the use of fever reducing medicine.
Second, on Wednesday evening the board adopted the new K-12 School Quarantine Guidelines that address COVID-19 exposures in K-12 learning environments. The guidance is supported by recent studies, and aims to keep students in the classroom, even during a normal quarantine period (if the conditions of mask wearing, social distancing, hand-washing, identification and management of students exhibiting symptoms of COVID-19, and cleaning protocols were all followed). This applies to the instructional classroom and instructional bus transportation (to and from school) only, and does not apply to extracurriculars, lunch, recess, PE, and/or music classes. During the quarantine period, students may come to school, but may not participate in extracurricular activities outside the classroom. Please refer to the
𝐊-𝟏𝟐 𝐒𝐜𝐡𝐨𝐨𝐥 𝐐𝐮𝐚𝐫𝐚𝐧𝐭𝐢𝐧𝐞 𝐆𝐮𝐢𝐝𝐞𝐥𝐢𝐧𝐞𝐬
information sheet for detailed explanation and guidance.

It is our sincere hope to keep our students in classrooms for the remainder of the school year. Please continue to support that effort by monitoring symptoms in the home. Lexington Schools' health and safety protocols will remain and we are committed to keeping our students, staff, and families safe.
Please refer to the
𝐂𝐨𝐧𝐭𝐚𝐜𝐭 𝐓𝐫𝐚𝐜𝐢𝐧𝐠 𝐔𝐩𝐝𝐚𝐭𝐞
guidance sheet to assist with understanding the two types of tracing that will now occur in case of an exposure to COVID-19, and if you have any questions please feel free to contact
your student's principal or building nurse. Thank you for trusting your student to Lexington Local Schools and for supporting our efforts this school year.

Jeremy Secrist
Superintendent
Letter From the Nurses
Dear Lexington Community,

We are so excited to see our students return to school. We have been working hard to ensure that everyone stays safe and healthy! The information provided is to help parents understand what guidelines we will be using if your student comes to the clinic. These are based on current CDC guidelines. Please use these guidelines at home as you do your morning health checks before school and as return to school guidance.

Feel free to contact your building nurse if you have further questions.

𝐒𝐚𝐟𝐞 𝐒𝐜𝐡𝐨𝐨𝐥 𝐆𝐮𝐢𝐝𝐞𝐥𝐢𝐧𝐞𝐬

𝐏𝐥𝐞𝐚𝐬𝐞 𝐤𝐞𝐞𝐩 𝐜𝐡𝐢𝐥𝐝 𝐡𝐨𝐦𝐞 𝐢𝐟 𝐭𝐡𝐞𝐲 𝐡𝐚𝐯𝐞 𝐚𝐧𝐲 𝐨𝐟 𝐭𝐡𝐞𝐬𝐞 𝐬𝐲𝐦𝐩𝐭𝐨𝐦𝐬:
1. Temperature over 100.0 F
2. Sore Throat
3. Uncontrolled cough that causes difficulty breathing
4. Diarrhea, vomiting and/or abdominal pain
5. Severe headache or pain

𝐑𝐞𝐭𝐮𝐫𝐧𝐢𝐧𝐠 𝐭𝐨 𝐒𝐜𝐡𝐨𝐨𝐥
1. Temperature below 100.0 F for a minimum of 24 hours without use of fever reducing medications
2. Must be symptom free for minimal of 24 hours and no new symptoms
3. Free of vomiting and diarrhea for minimal of 24 hours and able to tolerate eating and drinking
4. If doctor prescribes antibiotic should be taking antibiotic for minimal of 24 hours prior to return to school
5. After positive Covid-19 test: All signs and symptoms must be gone. At least 10 days passed since first symptom, and/or negative Covid-19 test, if applicable. Follow current CDC and local Health Department guidelines as needed.
Food Service Update
Recently the USDA extended Free Breakfast and Free Lunch for every student from now until the end of the 2020-2021 school year. What does this mean to your student?


1. One Breakfast and one Lunch free daily


2. Free meals only available on school days


3. In effect until the end of the 2020-2021 school year
4. May choose any of the offered meals


If you have questions please contact Tricia Volz at 419-884-2192 or
This email address is being protected from spambots. You need JavaScript enabled to view it.
Job Postings
Substitute Bus Drivers
Lexington Local Schools has a need for Substitute Bus Drivers. Applicants should have a Class B, CDL License with Passenger and School Bus Endorsement, or be willing to complete this work on site. Please complete a classified application form found on the website: www.lexington.k12.oh.us
Send applications to Brenda Welsh, Transportation Supervisor, at 103 Clever Lane Lexington, OH 44904 or e-mail completed application to This email address is being protected from spambots. You need JavaScript enabled to view it.
Bus Garage Mechanic
Lexington Local Schools is looking for a Bus Garage Mechanic. The applicant must demonstrate aptitude and competence for assigned responsibilities, be self-motivated, and have previous field experience as a diesel mechanic. Having a Class B, CDL License with Passenger and School Bus Endorsement is preferred. Please complete a classified application form found on the website: www.lexington.k12.oh.us
Send applications to Brenda Welsh, Transportation Supervisor, at 103 Clever Lane Lexington, OH 44904 or e-mail completed applications to This email address is being protected from spambots. You need JavaScript enabled to view it.

Substitute Nurses


Substitute nurses needed for 2020-2021 school year. RN or LPN with pediatric experience helpful. Send a resume or contact Paula Smith RN, District Nurse at
This email address is being protected from spambots. You need JavaScript enabled to view it.
Substitute Custodians


Lexington Local Schools has a need for Substitute Custodians. Custodian hours - Varied shifts, 8 hours per day. Must demonstrate aptitude and competence for assigned responsibilities. Complete classified application form found on website:
www.lexington.k12.oh.us
Send application to Jeremy Secrist, Superintendent 103 Clever Lane Lexington, OH 44904 or e-mail completed application to
This email address is being protected from spambots. You need JavaScript enabled to view it.
2020-2021 District Calendar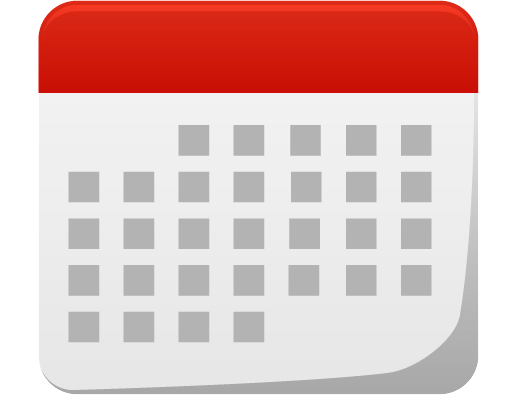 2020-2021 Board Approved Calendar
Reminder of the Laws on Stopping for School Buses
Best advice is if you approach, from either direction, a school bus stopped on or along the road, for any reason, with or without its lights flashing STOP.
We must all do our part of keep our precious children safe on their way to and from school each day. No one should be in such a hurry to jeopardize children's safety.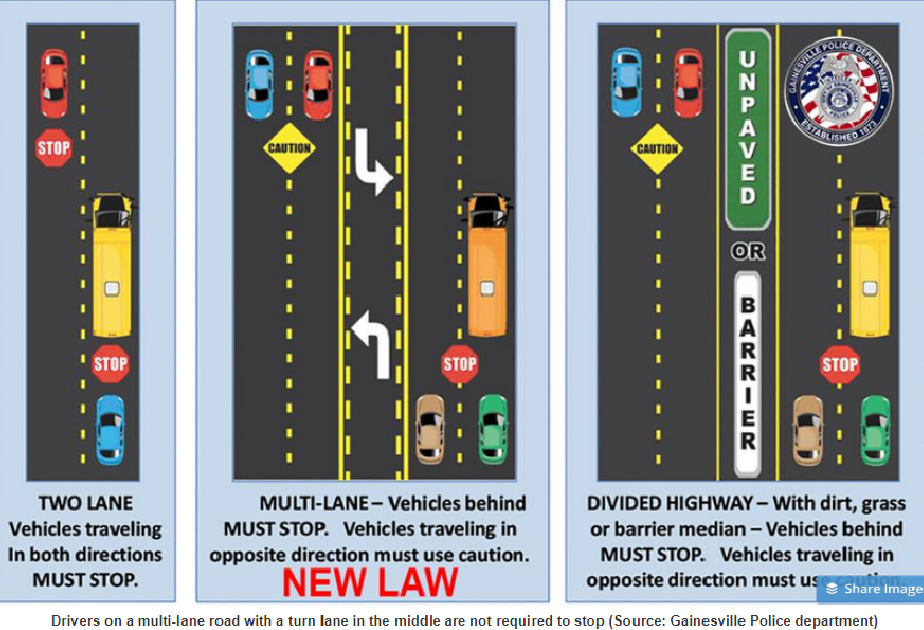 Mission Statement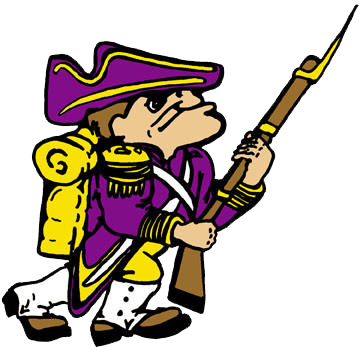 "The Lexington Local Schools, through a partnership

with our children's families and our community, will provide the BEST possible curricular and co-curricular opportunities to challenge all students to reach their highest potential, to enjoy learning and to make positive contributions within their homes and communities."