Food Service - Remote Learning Meal Pickup
Lexington In-School Students and Parents,


Good Morning! We can provide meals for your students while on remote learning. Any student in the Lexington Area ages 1-18 and still in school are eligible to receive meals. Meals will be picked up outside Western Cafeteria 11/30/20-1/11/21 from 10:00-11:30 am each Monday morning unless Monday is a holiday then pick up will be Tuesday. Meal delivery can be arranged by e-mailing
This email address is being protected from spambots. You need JavaScript enabled to view it.
or calling 419-989-0611. You will receive 5 breakfasts and 5 lunches.
Parents may pick the lunches up for their students. Meals will be ordered each Friday before 10 am. Please understand this is a firm deadline. Meals not ordered before 10 am will not be filled. Lunches can only be picked up at Western Elementary between 10:00-11:30 am Monday Mornings.


Please direct all questions to Tricia Volz, Food Service Director, by call 419-989-0611 or e-mail
This email address is being protected from spambots. You need JavaScript enabled to view it.
Hope you have a great school year!
𝐓𝐡𝐢𝐬 𝐢𝐧𝐬𝐭𝐢𝐭𝐮𝐭𝐢𝐨𝐧 𝐢𝐬 𝐚𝐧 𝐞𝐪𝐮𝐚𝐥 𝐨𝐩𝐩𝐨𝐫𝐭𝐮𝐧𝐢𝐭𝐲 𝐩𝐫𝐨𝐯𝐢𝐝𝐞𝐫
Junior High - Remote Learning Starting November 24
Due to illness, positive COVID cases, and excessive absences as a result, the Junior High will begin remote learning tomorrow, Tuesday, November 24th. Consistent with the District's plan regarding remote learning, the Junior High will return to in-person learning January 19th. The teachers have been preparing students and each member of the student body has a District assigned Chromebook to enable as smooth and seamless transition to remote learning as possible. The student remote learning expectations have been sent on Remind and are posted on all teacher's Schoology sites. Please stay well and stay safe.
Sincerely,

Taylor Gerhardt
Junior High Principal
Remote Learning - Grades K-5 Laptop Request Form
Lexington Parents of Elementary Students,
Now that the district will be moving to remote learning beginning November 30th, please either fill out the paper form your student will bring home today, or the Google Form included in the link below to let us know if you need a laptop, and how you would like to receive it. Because we never went remote in October, and students in grades 6 - 12 now have their Chromebooks, we are asking for you to resubmit a request if you need a laptop. We no longer need to limit the number of devices per household and have a device for any student in grades K-5. Each classroom is now equipped with a laptop cart, and the teachers have assigned a laptop to each K-5 student. Each building will be sending out more information on laptop pickup times.
Western Elementary - Remote Learning Starting 11/23
Dear Western Families;
Western Elementary School Principal and the district Superintendent, Jeremy Secrist, have made the decision to start remote learning beginning 𝐌𝐨𝐧𝐝𝐚𝐲, 𝐍𝐨𝐯𝐞𝐦𝐛𝐞𝐫 𝟐𝟑, 𝟐𝟎𝟐𝟎 due to a staff member self-identified as testing positive for COVID-19. This is for 𝐀𝐋𝐋 students at Western 𝐎𝐍𝐋𝐘. The school building will remain closed next week for cleaning, but teachers will contact their students and their families on Monday, Nov. 23 and Tuesday, Nov. 24 to prepare families for computer and learning bag pick up schedules on Monday, Nov. 30, 2020. The schedule will be as follows:
𝐏𝐫𝐞𝐬𝐜𝐡𝐨𝐨𝐥 𝐚𝐧𝐝 𝐊𝐢𝐧𝐝𝐞𝐫𝐠𝐚𝐫𝐭𝐞𝐧: 9:00-11:00 am
𝐅𝐢𝐫𝐬𝐭 𝐚𝐧𝐝 𝐒𝐞𝐜𝐨𝐧𝐝 𝐆𝐫𝐚𝐝𝐞: 12:00 pm-2:00 pm
𝐓𝐡𝐢𝐫𝐝 𝐆𝐫𝐚𝐝𝐞: 3:00 pm-4:00 pm
𝐀𝐧𝐲𝐨𝐧𝐞 𝐰𝐡𝐨 𝐢𝐬 𝐮𝐧𝐚𝐛𝐥𝐞 𝐭𝐨 𝐩𝐢𝐜𝐤 𝐮𝐩 𝐚𝐭 𝐭𝐡𝐞 𝐚𝐛𝐨𝐯𝐞 𝐭𝐢𝐦𝐞𝐬: 5:00 pm-7:00 pm
A Google online learning navigation video is available on the Western school website or can be accessed at https://youtu.be/advSvgvgQMk . Teachers have been working with students on navigating Google Classroom so all students should be familiar. However, if you need further information, please contact your teacher via email for questions regarding online learning activities. If your child is having any difficulty completing the assignments, please reach out to the appropriate teacher for guidance.
This is a learning opportunity for all of us. I am confident that we can work together as a community to successfully navigate this new experience. Thank you for your understanding and patience during this very trying time. Please contact me at 419-884-2765 x5400 or This email address is being protected from spambots. You need JavaScript enabled to view it. with any questions or concerns.
Sincerely,
Genelle Eggerton
Western Elementary Principal
November 18, 2020 - Remote Learning Update
Lexington School Community,
Lexington Local Schools has focused this school year on providing both in-person and digital learning for our students. Policies and procedures have been put in place to provide as safe an in-person learning environment as we possibly can during the COVID-19 pandemic. This continues to be our goal and focus, but the surge in general illnesses, COVID-19 related illnesses, and the impending holidays force us to make an adjustment to our mode of instruction for a period of time. The holiday season will be a time of travel, family gatherings, and college students returning home. We understand that this is likely to lead to additional illness and COVID-19 cases. In an effort to mitigate the impact of this, all in-person learning grades PK - 12 will be suspended from November 30th and resume on January 19th. The Lexington Digital Academy will continue to operate as it has to date.
Our Thanksgiving and Winter breaks will remain the same, and athletics and activities will continue with daily monitoring. The schedule will be as follows:
Thanksgiving Break – NO SCHOOL: Wednesday, November 25th – Friday, November 27th

Monday, November 30th – Tuesday, December 22nd: All students PK-12 will participate in remote learning.
• All staff will report to school and teachers will provide remote learning
• All after school events will continue, daily wellness assessments will be done and health and safety procedures and protocols will be followed
Winter Break – NO SCHOOL: Wednesday, December 23rd – Friday, January 1st
Monday, January 4th – Friday, January 15th: All students PK-12 will participate in remote learning.
• All staff will report to school and teachers will provide remote learning
• All after school events will continue, daily wellness assessments will be done and health and safety procedures and protocols will be followed
Tuesday, January 19th: In-Person learning will resume.
• Staff and students will report to school as normal
It is our hope that by making these changes now, we can avoid any surge in COVID-19 cases within our school community that may occur as a result of the holiday season. It is our hope to continue to offer in-person learning for the remainder of the year. Please know that Lexington Local Schools will continue to monitor the health and wellness of our school community daily, and all plans are subject to change. Please continue to support us by encouraging masks, social distancing, and proper hand washing. Thank you.
Sincerely,
Jeremy Secrist
Superintendent
Facilities Update
Lexington School Community,
Our construction project continues to march on, in spite of the rain, and our landscape continues to change. Included are several pictures to help detail what is going on, but let me quickly update some of our most recent progress:
• The footers and base for the new concession stand has been roughed in where the new athletic fields will be
• The headwall has been placed for the detention pond beneath the new athletic fields
• Clever Lane was closed on October 24th to allow for the new water tap that will feed the new facility. The water and electric lines are being run next to the school and back to the construction site.
• The metering vault for the water line has delivered and placed in the upper high school/senior parking lot.
• The sanitary manhole has been installed near 546 to tie into the main sanitary line.
We continue to be impressed with the work being performed that is quickly changing our landscape, and we look forward to all of the changes yet to come! Thank you all for supporting this project.

Jeremy Secrist
Superintendent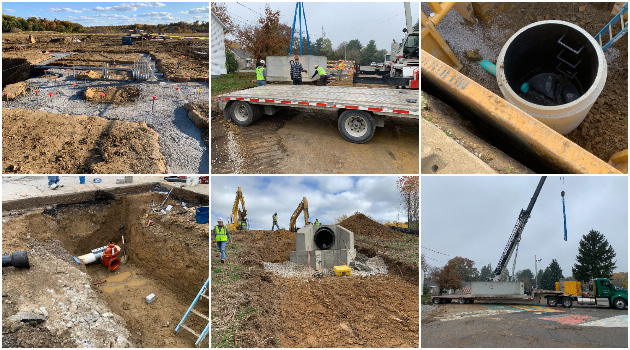 October 30, 2020 - Back to School Plan Update
Lexington School Community,

Attached in the link below is the Back-to-School plan that was updated at the October 21st Board of Education meeting. The changes to the plan are on pages 4 and 5 of the document, and allow the district to make decisions regarding in-person and remote instruction based upon the current status of the district, rather than the Governor's color alert system. Under level PURPLE, the word "will" was changed to "may" to provide the district flexibility in its decision making.
Lexington Local Schools will continue to work diligently to provide high-quality in-person and digital instruction, and to continue to follow the health and safety protocols to keep students and staff safe. Please continue to encourage your students to take the necessary precautions of wearing a mask, distancing, and washing hands to help us keep students in school. Thank you for allowing Lexington to educate your students, and for your support of our district during these unprecedented times.

Jeremy Secrist
Superintendent
COVID-19 Reporting
Per the Ohio Department of Health Director's Order, effective 9-8-2020, requiring reporting and notification regarding COVID-19 cases in Kindergarten through Twelfth Grade Schools, please click the links below to see the letters regarding the positive COVID-19 tests within our district.
November 24, 2020 - JH Students, JH Coach, Central

November 23, 2020 - High School/Junior High - Students

November 23, 2020 - Western/Bus Garage - Staff

November 19, 2020 - High School

November 16, 2020 - Junior High

November 12, 2020 - High School/Eastern

November 11, 2020 - HS/Eastern Quarantined Students, Bus Garage Staff Member

November 6, 2020 - High School

October 30, 2020 - High School

October 29, 2020 - Central/Eastern

October 28, 2020 - High School/Western

October 26, 2020 - High School/Junior High Quarantined Students

October 20, 2020 - Lexington Local

September 30, 2020 - Bus Garage
Special Education Family Survey
Dear Parent or Guardian of Student(s) with Disabilities,
If you have not previously completed the Ohio Department of Education (ODE) Family Survey, we would like to invite you to participate in a short, 25 question survey about your involvement in your student's education. Research suggests that parental involvement is a key predictor of positive educational outcomes. You may be eligible to participate if your child has an IEP and receives special education services. The purpose of collecting this information is to improve services for students with disabilities across Ohio. If you are eligible to participate and you enroll in the study, you will be entered in a drawing for several $50 Amazon gift cards. Your chance of winning a gift card is approximately 2.0%.
Please click on the link below to find out more about the survey and if you are eligible.
Letter From the Nurses
Dear Lexington Community,

We are so excited to see our students return to school. We have been working hard to ensure that everyone stays safe and healthy! The information provided is to help parents understand what guidelines we will be using if your student comes to the clinic. These are based on current CDC guidelines. Please use these guidelines at home as you do your morning health checks before school and as return to school guidance.

Feel free to contact your building nurse if you have further questions.

𝐒𝐚𝐟𝐞 𝐒𝐜𝐡𝐨𝐨𝐥 𝐆𝐮𝐢𝐝𝐞𝐥𝐢𝐧𝐞𝐬

𝐏𝐥𝐞𝐚𝐬𝐞 𝐤𝐞𝐞𝐩 𝐜𝐡𝐢𝐥𝐝 𝐡𝐨𝐦𝐞 𝐢𝐟 𝐭𝐡𝐞𝐲 𝐡𝐚𝐯𝐞 𝐚𝐧𝐲 𝐨𝐟 𝐭𝐡𝐞𝐬𝐞 𝐬𝐲𝐦𝐩𝐭𝐨𝐦𝐬:
1. Temperature over 100.0 F
2. Sore Throat
3. Uncontrolled cough that causes difficulty breathing
4. Diarrhea, vomiting and/or abdominal pain
5. Severe headache or pain

𝐑𝐞𝐭𝐮𝐫𝐧𝐢𝐧𝐠 𝐭𝐨 𝐒𝐜𝐡𝐨𝐨𝐥
1. Temperature below 100.0 F for a minimum of 24 hours without use of fever reducing medications
2. Must be symptom free for minimal of 24 hours and no new symptoms
3. Free of vomiting and diarrhea for minimal of 24 hours and able to tolerate eating and drinking
4. If doctor prescribes antibiotic should be taking antibiotic for minimal of 24 hours prior to return to school
5. After positive Covid-19 test: All signs and symptoms must be gone. At least 10 days passed since first symptom, and/or negative Covid-19 test, if applicable. Follow current CDC and local Health Department guidelines as needed.
Richland Public Health COVID Letter
Attached in the link above is a letter sent to all Richland County schools describing how the Richland Public Health Department will handle an exposure to COVID-19 in a school setting and/or a positive test by a member of our school community. Please take the time to read the letter carefully.
Thank you.
Jeremy Secrist
Food Service Update
Recently the USDA extended Free Breakfast and Free Lunch for every student from now until December 31, 2020. What does this mean to your student?


1. One Breakfast and one Lunch free daily


2. Free meals only available on school days


3. In effect until 12/31/20 or revoked by USDA


4. No application needed. Beginning 1/1/21 application must be submitted and approved to receive free or reduced lunches.


5. May choose any of the offered meals


If you have questions please contact Tricia Volz at 419-884-2192 or
This email address is being protected from spambots. You need JavaScript enabled to view it.
Job Postings
Substitute Bus Drivers
Lexington Local Schools has a need for Substitute Bus Drivers. Applicants should have a Class B, CDL License with Passenger and School Bus Endorsement, or be willing to complete this work on site. Please complete a classified application form found on the website: www.lexington.k12.oh.us
Send applications to Brenda Welsh, Transportation Supervisor, at 103 Clever Lane Lexington, OH 44904 or e-mail completed application to This email address is being protected from spambots. You need JavaScript enabled to view it.
Bus Garage Mechanic
Lexington Local Schools is looking for a Bus Garage Mechanic. The applicant must demonstrate aptitude and competence for assigned responsibilities, be self-motivated, and have previous field experience as a diesel mechanic. Having a Class B, CDL License with Passenger and School Bus Endorsement is preferred. Please complete a classified application form found on the website: www.lexington.k12.oh.us
Send applications to Brenda Welsh, Transportation Supervisor, at 103 Clever Lane Lexington, OH 44904 or e-mail completed applications to This email address is being protected from spambots. You need JavaScript enabled to view it. Deadline: Friday, November 20th
High School 1-to-1 Aide
1-to-1 Aide is needed for the second semester of the 2020-21 school year. This is a Renhill position for a high school student and the position would start on January 4, 2021. Interested applicants should contact High School Principal, Kevin Young at This email address is being protected from spambots. You need JavaScript enabled to view it.

Substitute Nurses


Substitute nurses needed for 2020-2021 school year. RN or LPN with pediatric experience helpful. Send a resume or contact Paula Smith RN, District Nurse at
This email address is being protected from spambots. You need JavaScript enabled to view it.
Substitute Custodians


Lexington Local Schools has a need for Substitute Custodians. Custodian hours - Varied shifts, 8 hours per day. Must demonstrate aptitude and competence for assigned responsibilities. Complete classified application form found on website:
www.lexington.k12.oh.us
Send application to Jeremy Secrist, Superintendent 103 Clever Lane Lexington, OH 44904 or e-mail completed application to
This email address is being protected from spambots. You need JavaScript enabled to view it.
2020-2021 District Calendar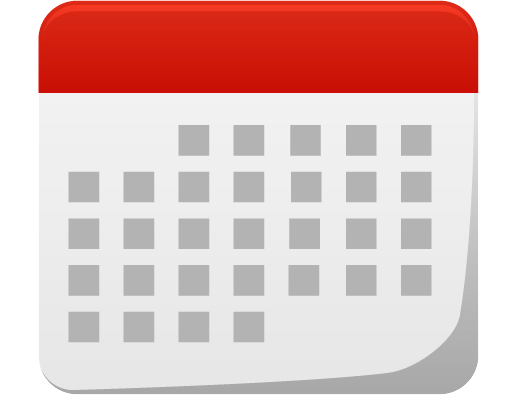 2020-2021 Board Approved Calendar
Reminder of the Laws on Stopping for School Buses
Best advice is if you approach, from either direction, a school bus stopped on or along the road, for any reason, with or without its lights flashing STOP.
We must all do our part of keep our precious children safe on their way to and from school each day. No one should be in such a hurry to jeopardize children's safety.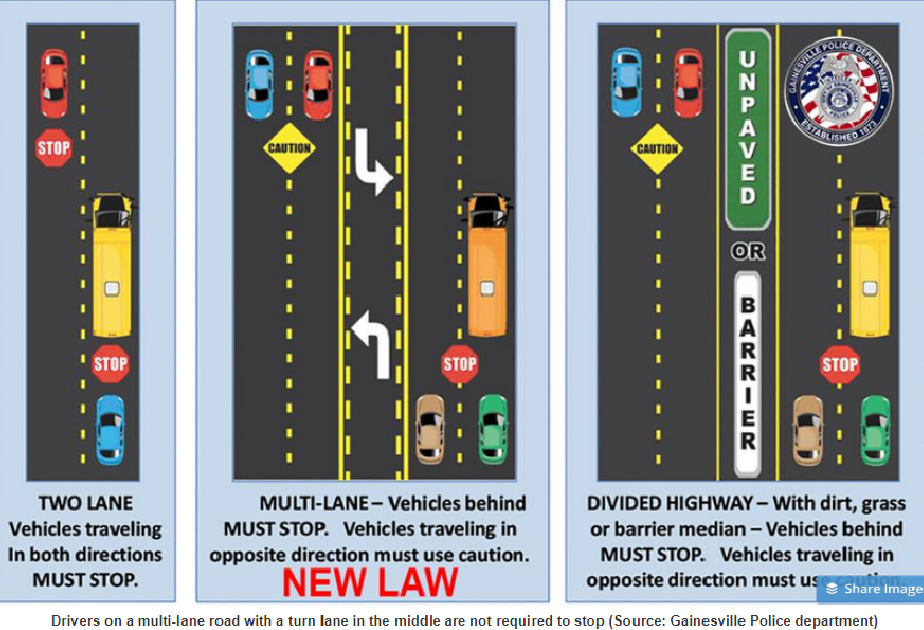 New Text and Email Alert Service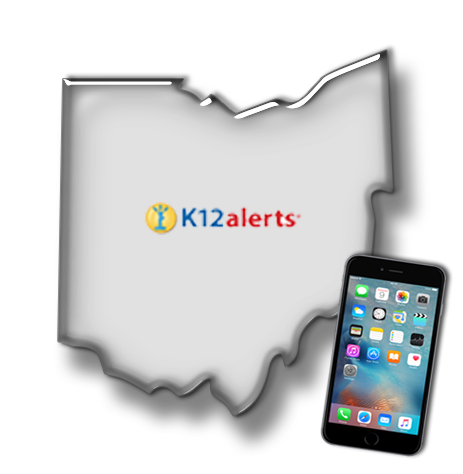 Lexington Schools has updated to a new text and email alert service. The K12Alerts Portal link to sign up/make changes can be found under "Parents & Students" and clicking on "Text and Email Alerts" or by clicking here. If you were previously signed up for district-wide messages, you will still receive those alerts as usual. If you only wish to receive district-wide alerts, you do not need to do anything. If you wish to receive individual school specific alerts as well, those will need to be signed up for again. For existing users, enter your phone number or email address as the username and a password of changeme by default. After signing in, you can change your contact information as well as change the password to one of your choice. Click the "Click here to continue" button at the bottom of the contact information page and select the schools you wish to receive alerts from on the following page. Click "Add" and then "Click to continue" to confirm your selections.
Text and Email Messaging can be used for a variety of reasons such as:
Snow day notifications, school closings or delays
Emergency alerts (school lockdowns)
Alerting parents for delayed school buses
Alerting parents for local dangers
Mission Statement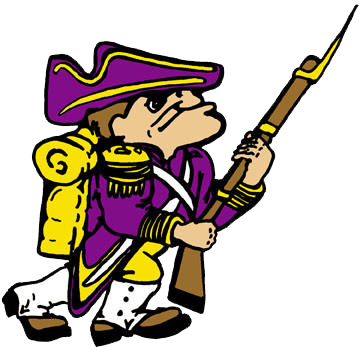 "The Lexington Local Schools, through a partnership

with our children's families and our community, will provide the BEST possible curricular and co-curricular opportunities to challenge all students to reach their highest potential, to enjoy learning and to make positive contributions within their homes and communities."