2018-2019 School Year Information
The first day of classes for students attending Lexington High School will be Monday, August 20, 2018.
Lexington High School orientation for all freshmen and students new to the district will be Monday, August 13, 2018, at 7:00 p.m. in the high school auditorium. Parents are strongly encouraged to attend. Schedules will be issued at this time, upon payment of school fees. Students may tour the building after the program.
All other high school students' grades 10, 11, and 12 may pick up their schedules and pay school fees beginning Monday, August 13th through Friday, August 17th , in the principal's office from 8:00 – 3:00 p.m
2018-2019 Supply List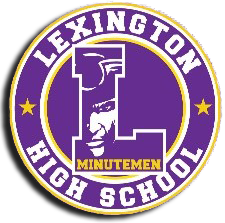 Principal's Message
Lexington High School Family,
It has been a terrific start to the school year, there is such a wonderful vibe in our building. I am excited to come to work every day and have the opportunity to see the staff building relationships with, and inspiring, the students of Lexington High School.
I want to thank all of the parents and guardians who have helped the students make a smooth transition to a new school year, and a new administration. Your support of what I and the staff do on a daily basis is greatly appreciated. I encourage all of you to stay informed about what goes on here by using the school website, checking ProgressBook, and getting involved in our school community. In addition, please know that I welcome any comments, questions, or concerns, and my door is always open.
Thank you for sending your students to us. We are honored to educate them and take great pride in watching them grow into fine young citizens.
Mr. Young
Text Alerts
Please remember to sign up for TEXT and EMAIL ALERTS from the Lexington School District. This is our primary means of notifying families if school is delayed or cancelled due to inclement weather. Look for the link to "Text and Email Alerts" under "Parents & Students" on the top menu bar of the Lexington Local Schools' homepage.
Announcements
Parking
All automobiles driven to and from school by students must be registered in the office. Application blanks are provided for students in the high school office.

Absences
Planned Absences: Parents are reminded that any planned absence is to be pre-arranged, in the office, with at least two days advance notice with a note. This would include college visits, medical appointments, out of town trips and funerals.
Notes for student absences that are not received within five days of the absence will result in the absence being permanently recorded as an unexcused absence.
High School Mission Statement
The Lexington Schools have a rich tradition of excellence in academics, arts, and athletics. Lexington High School, in continuing that tradition, is committed to preparing students for a successful future. The mission of Lexington High School is to provide educational opportunities that will best develop life-long learners, independent thinkers, and effective communicators. These opportunities will help Lexington students achieve future excellence in all their endeavors.