Central Elementary Named National Blue Ribbon School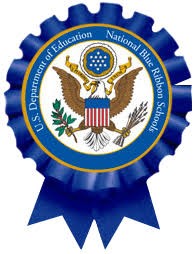 Congratulations Central Elementary students, teachers, staff, principal and parents for being recognized as an Exemplary High Performing National Blue Ribbon School for 2018 by U.S. Secretary of Education, Betsy DeVos.
Click Here for the letter from Aba Kumi, Director of the National Blue Ribbon Schools Program

Central News
1/11/19
Writers' Gallery
     Every week the teachers submit writing pieces for us to showcase.  Each week we pick out five exceptional writing pieces to display.  The students are recognized by having their names said on the morning announcements, they receive a "Golden Pencil" and a McDonald's certificate, as well as their pictures and writing exemplars are displayed in Writers' Gallery.  This week's winners are:  Macie, Maddy, Hayden, Cooper, Adam, Noah, Myles, Odin , and Daphne.
Third Grade Tutoring
     Third grade tutoring will start on Monday, January 14th.
Yearbooks
     Yearbooks will be on sale from January 28th- February 8th.  They are $13.00 and checks should be made payable to Marco Photo. 
Help Needed!
      We are looking for volunteers for the Reading Carnival on 1/30 from noon until 3 pm. Also, we need volunteers for COSI on Tuesday, February 26th, the program will be Simply Chemistry.  If you are able to help please call the office at 419-884-1308.
Winter
     A reminder that the students go outside for recess during the winter until the wind chill dips down to twenty degrees.  (If the wind chill is above 10 we will go out at lunch for 15 minutes, then inside for the rest of the recess) During lunch the students are outside for thirty minutes.  Please make sure that your child dresses warm!
Absences
     On your student's grade card the attendance is still not reported accurately, here is why.  Due to the changing of a state law we are now required to report absences by the hour.  On our grade card, absences are still reported by the day.  If you would like an accurate picture of what we have for your child's attendance you can check on progress book or call to school and we will run a report for you.  Sorry for the inconvenience.
Upcoming Events
Tuesday, January 15th                        Military Kids Monthly Lunch
Monday, January 21st                          No school~Martin Luther King Day
Tuesday, January 22                           Central Pride~Fairness
Thursday, January 24th                       Fourth Grade Academic Challenge at Mid-Ohio
Tuesday, January 29th                        Early Release
Wednesday, January 30th                   Reading Carnival!!  Kinders first time!  Keep reading!
Friday, Feb. 1st                                     Interims go home
Monday, Feb. 4th                                  Morning kinders to Little Buckeye Museum
Tuesday, Feb. 5th                                 Afternoon kinders to Little Buckeye Museum
2019-2020 Kindergarten Registration
2019-2020 Kindergarten Registration
Lexington Local Schools will hold kindergarten registration at Central and Western Elementary schools on Thursday, February 21st from 9:30 a.m. to 3:00 p.m. and 4:30 pm to 7:00 p.m. at Central and Western Elementary schools. Registration will also be held on Thursday, February 28th from 4:30 p.m. to 7:99 p.m.

Your child must be 5 years old on or before August 1, 2019 to be eligible for kindergarten. The following documentation is required for kindergarten registration:
1. Child's original birth certificate
2. Child's social security card
3. Child's immunization record
4. Custody papers (single, adoptive, foster family or name change)
5. Proof of residence (current rental/purchase/lease agreement or
utility bill)
6. Your driver's license
Parents will sign up for a kindergarten screening date & time during registration.
Military Family Resources
Central Library Links