September 20, 2021 - Bus Route Plan
Dear Guardians:

As many of you know, Lexington Local Schools is currently on a bus driver shortage for the 2021-22 school year. The transportation department would like to share the current plan, if your child's bus driver is unavailable and no other substitutes are available to drive their route, on a specific morning or afternoon.

You will receive a text alert from the school informing parents that their child will be late getting to school and/or coming home. If you have not signed-up for the district text alerts, please find it on our website under the "parents and students" tab.

The first available bus driver that completes their route will go back out to finish the route for the driver that was unavailable that day. Unfortunately, this will take some time and your child will be either late coming to school or late being dropped off after school. We will work as quickly and safely as possible to transport your child to and from school.

If you would rather pick up your child or drop them off to school that day, that is certainly an option to ensure they are not late. However, we ask that you contact your building's main office to communicate that decision.

Please contact the bus garage if you would be interested in becoming a substitute bus driver at 419-884-2349. Free training would be available for those who qualify.

Thank you for entrusting us to transport your child every day.

Sincerely,

Brenda Welsh
Transportation Director
September 20, 2021 Return to In-Person Learning/Mask Requirements
Lexington School Community,
As you have undoubtedly heard, or read, the Lexington Local School Board voted at Wednesday night's board meeting to institute a mask requirement for all faculty, staff, students and visitors in indoor environments beginning September 20th, upon returning to in-person learning. Due to the number of positive cases, which in 3 weeks approached our total for the entire 2020-2021 school year, and our lack of staff to properly run our district, we were forced to move to remote learning these last two weeks.
It is abundantly clear to all of us (parents, students, staff and administration) that remote learning is not what is best for our students. Our number one priority is, and must be, providing our students the best inperson learning experience we possibly can. To do this, we must ensure the health and safety of our students and staff.
Each and every decision district leaders and board of education members have made since the onset of the pandemic have been difficult. I ask that as a school community, we embrace differences of opinions and become examples of how to come together for a common cause, which in this case is one of the highest and greatest causes we have, the education of our children. Our job as educators is to teach our students in a safe environment. We believe these measures will help us do that successfully.
This decision to require facial coverings is to keep our school community safe and healthy. If your student(s) has a medical issue that facial coverings can make problematic, please see your physician, and/or provide the superintendent with documentation from a licensed physician for review, and to pursue other options. Again, our goal is to keep our students and staff healthy and safe, so learning can continue uninterrupted throughout this pandemic, and while the spread of COVID in our school community, village, county, and state are at such high levels.
Once again, thank you for entrusting us to educate your child. Stay safe and well, and we look forward to welcoming our students back into our buildings and classrooms on Monday, September 20th.
Sincerely,
Jeremy Secrist
Superintendent

Kevin Young
Assistant Superintendent
August 23, 2021 - Facilities Update
Lexington School Family,

Below is this month's installment of the construction update for our 7-12 building project. Thank you for your continued support of our schools.

Jeremy Secrist
Superintendent
*To view the full photo album of all recent drone pictures, please see our Facebook post by clicking here

𝐄𝐚𝐫𝐥𝐲 𝐒𝐢𝐭𝐞 𝐏𝐚𝐜𝐤𝐚𝐠𝐞

𝐒𝐨𝐟𝐭𝐛𝐚𝐥𝐥 & 𝐁𝐚𝐬𝐞𝐛𝐚𝐥𝐥 𝐅𝐢𝐞𝐥𝐝𝐬
• Concrete placed for batting cages
• Concrete placed for bleachers and press boxes
• Placement of ballfield mix
• Field irrigation system
• Outfield fencing
𝐂𝐨𝐧𝐜𝐞𝐬𝐬𝐢𝐨𝐧 𝐁𝐮𝐢𝐥𝐝𝐢𝐧𝐠
• Concrete placed for sidewalks and concession stand aprons
𝐒𝐢𝐭𝐞 𝐖𝐨𝐫𝐤
• Topsoil and hydroseed placed at hillsides and soccer practice fields
• Installation of ADA ramps and stairs at hillside

𝐁𝐮𝐢𝐥𝐝𝐢𝐧𝐠 𝐏𝐚𝐜𝐤𝐚𝐠𝐞

𝐂𝐨𝐧𝐜𝐫𝐞𝐭𝐞
• Completed Kitchen and Main Mechanical Rooms concrete slab on grade
• Prep for and place concrete slab on deck at Main Gymnasium south mezzanine completed
• Place concrete slab on grade at Area 4 J.H. locker areas and student areas completed
• Prep and place concrete stairs at PAC stage right and stage left ongoing
𝐌𝐚𝐬𝐨𝐧𝐫𝐲
• CMU walls at Kitchen and Main Mechanical Rooms completed
• CMU veneer at Auxiliary gymnasium east wall completed
• CMU at Auxiliary Gymnasium north and east walls completed
• CMU walls at Auxiliary Gymnasium West Locker Rooms completed
• CMU walls at South Locker Rooms completed
• CMU walls at Area One Music Rooms and Back of House areas ongoing
• CMU at JH gymnasium west and south walls ongoing
𝐒𝐭𝐫𝐮𝐜𝐭𝐮𝐫𝐚𝐥 𝐒𝐭𝐞𝐞𝐥
• Structural steel erection at Main Gymnasium south mezzanine completed
• Structural steel erection at Area 3 Administration and Special Ed first and second floors completed
• Main gymnasium north mezzanine structural steel and decking installations ongoing
𝐏𝐥𝐮𝐦𝐛𝐢𝐧𝐠 & 𝐄𝐥𝐞𝐜𝐭𝐫𝐢𝐜
• MEP under slab installation at Area 4 J.H. locker areas and student areas completed
• MEP under slab installations at PAC stage area ongoing
𝐂𝐚𝐫𝐩𝐞𝐧𝐭𝐫𝐲
• Installation of treated lumber cap at PAC and Stage roof parapet walls ongoing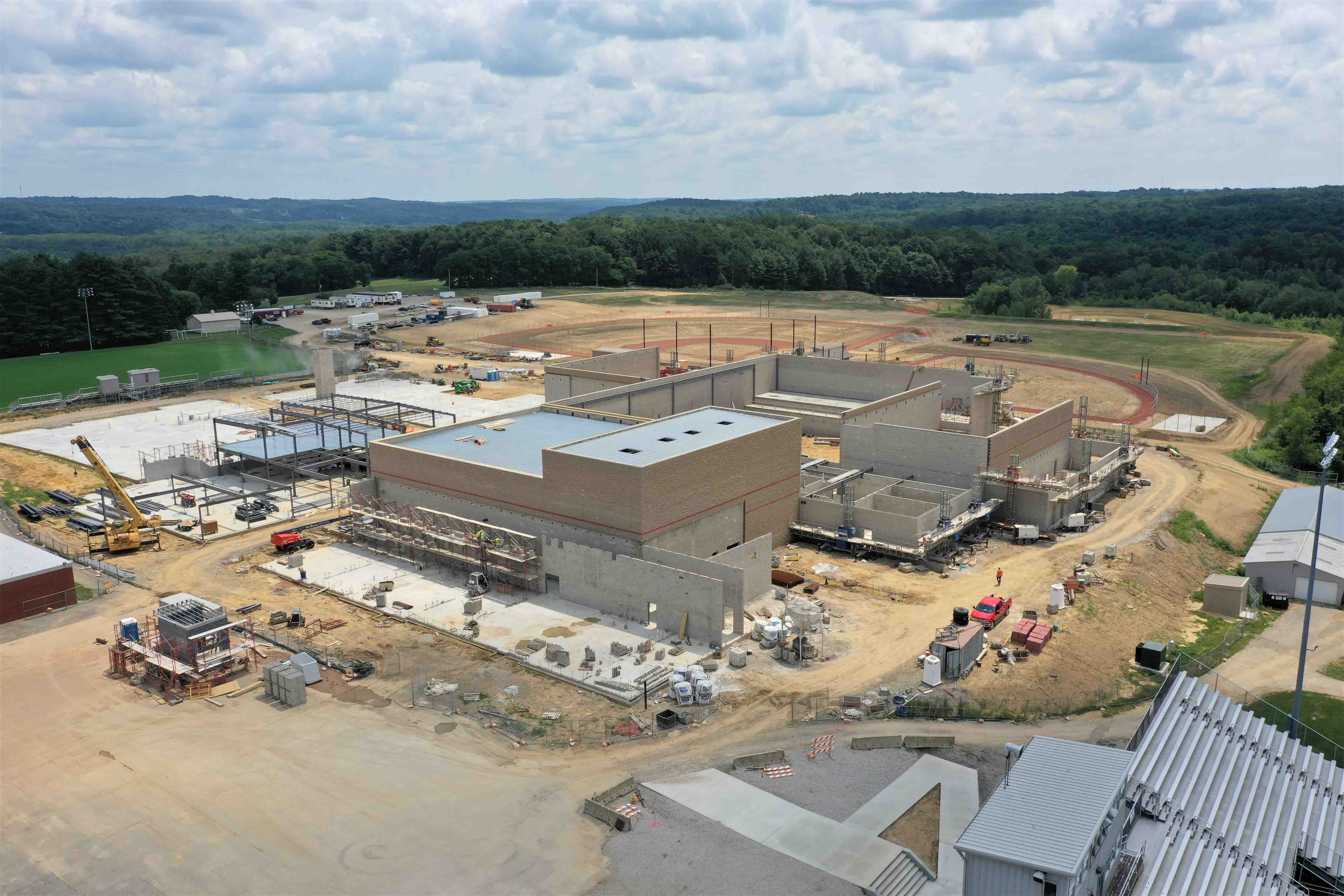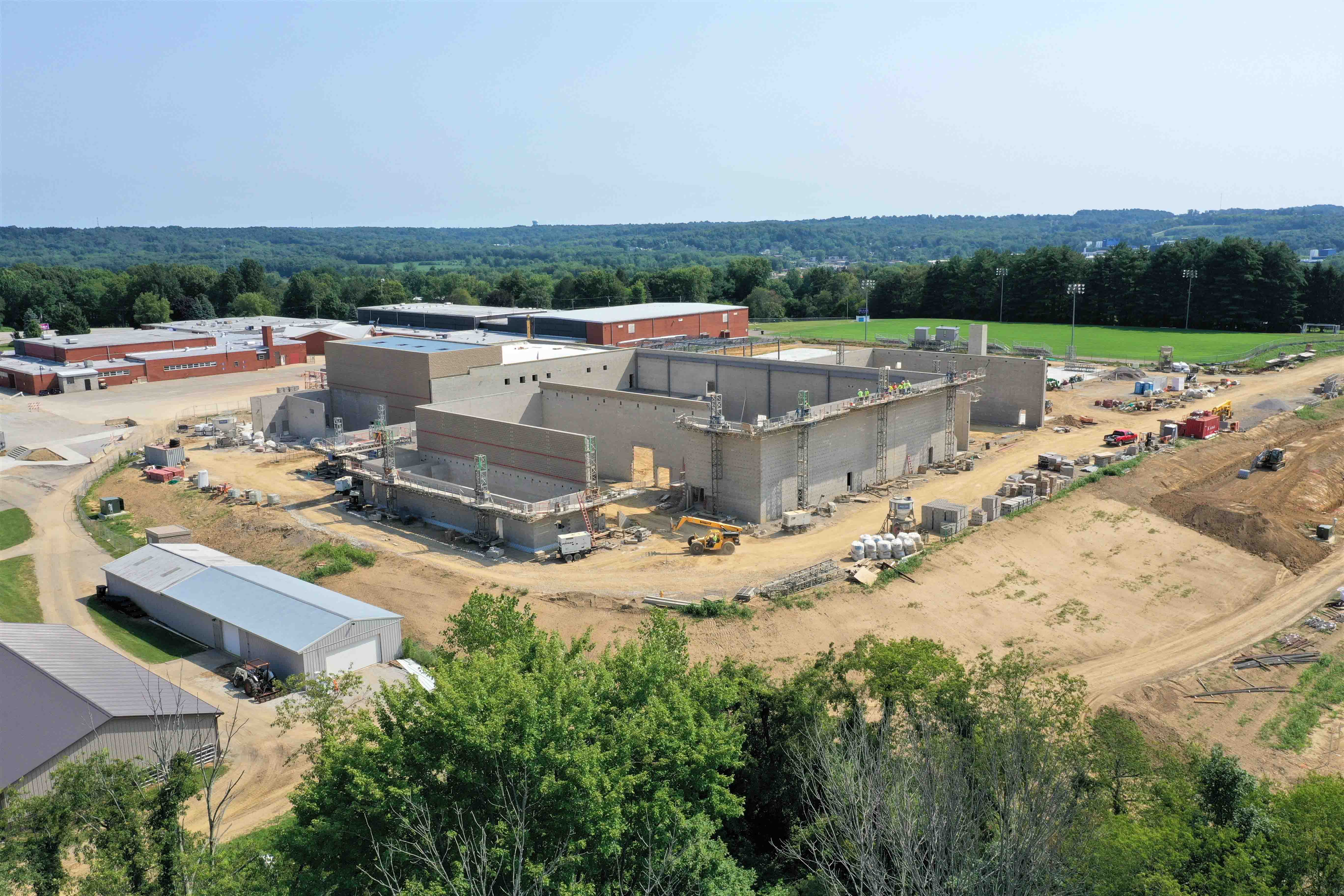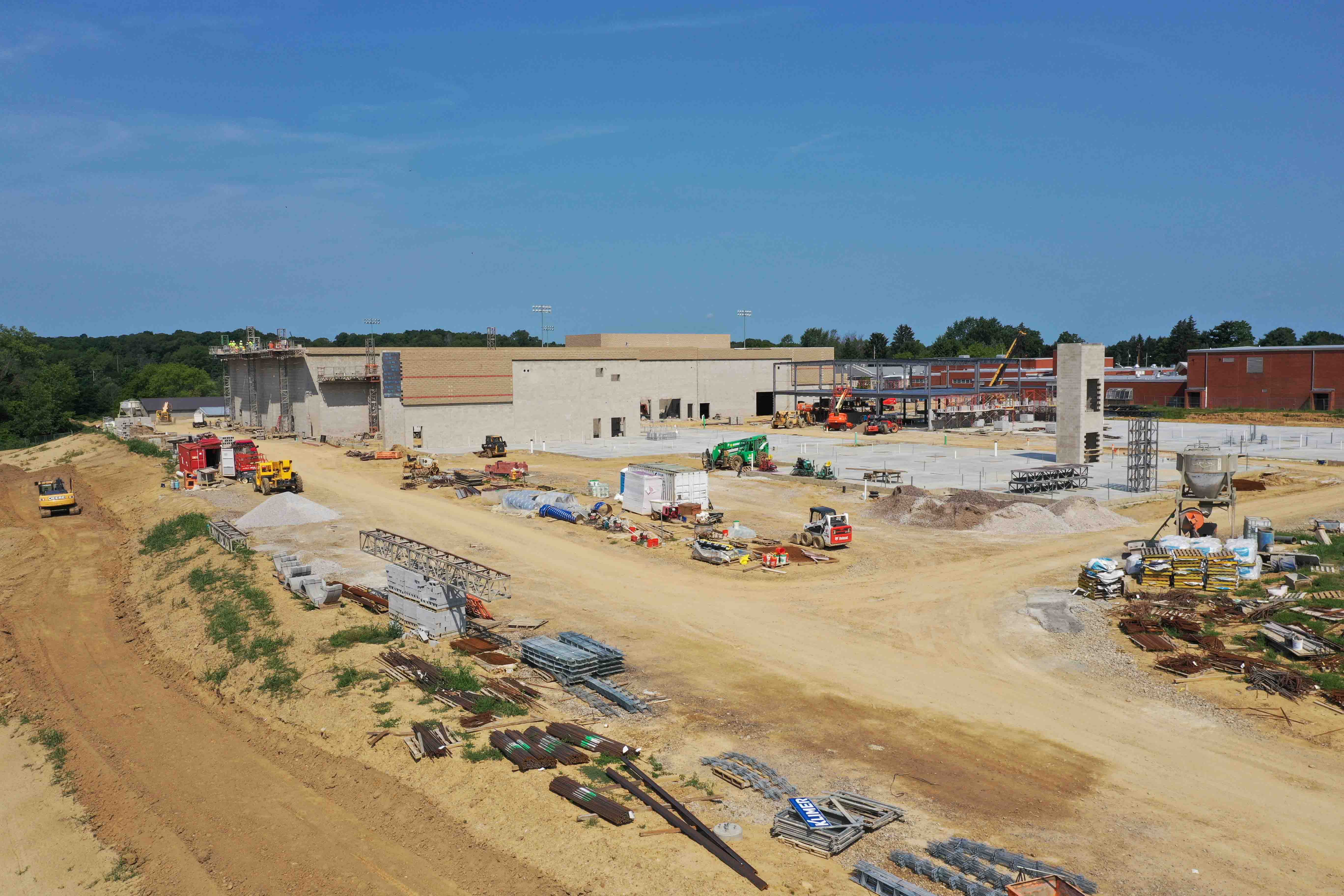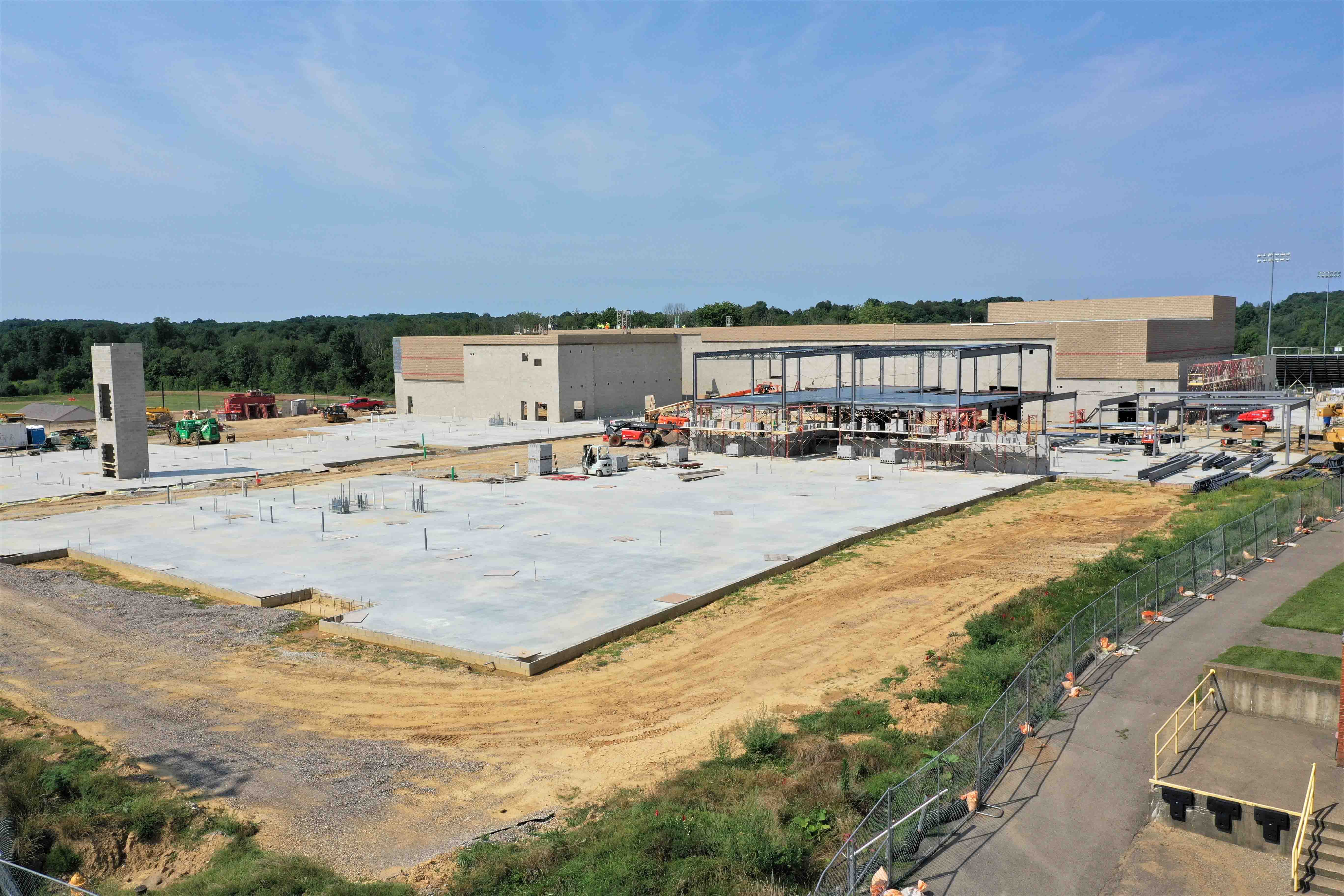 FinalForms (Online Forms/Registration)
Lexington Schools is transitioning to FinalForms for online forms (emergency,medical,etc.) instead of the paper packet that is typically sent home at the start of the school year.
To register a new student, please click on the following link: Lexington FinalForms
If your student is already attending Lexington and you have not received an email confirmation from FinalForms, please call your student's building so the secretaries can update your email address in the FinalForms system. Once your email address has been entered, you will receive a confirmation email from FinalForms to create an account.

7-12 Building Project Renderings
Attached are the most recent renderings from TDA of the 7-12 building project. PDF version is also available by clicking on the following link: 7-12 Building Project Renderings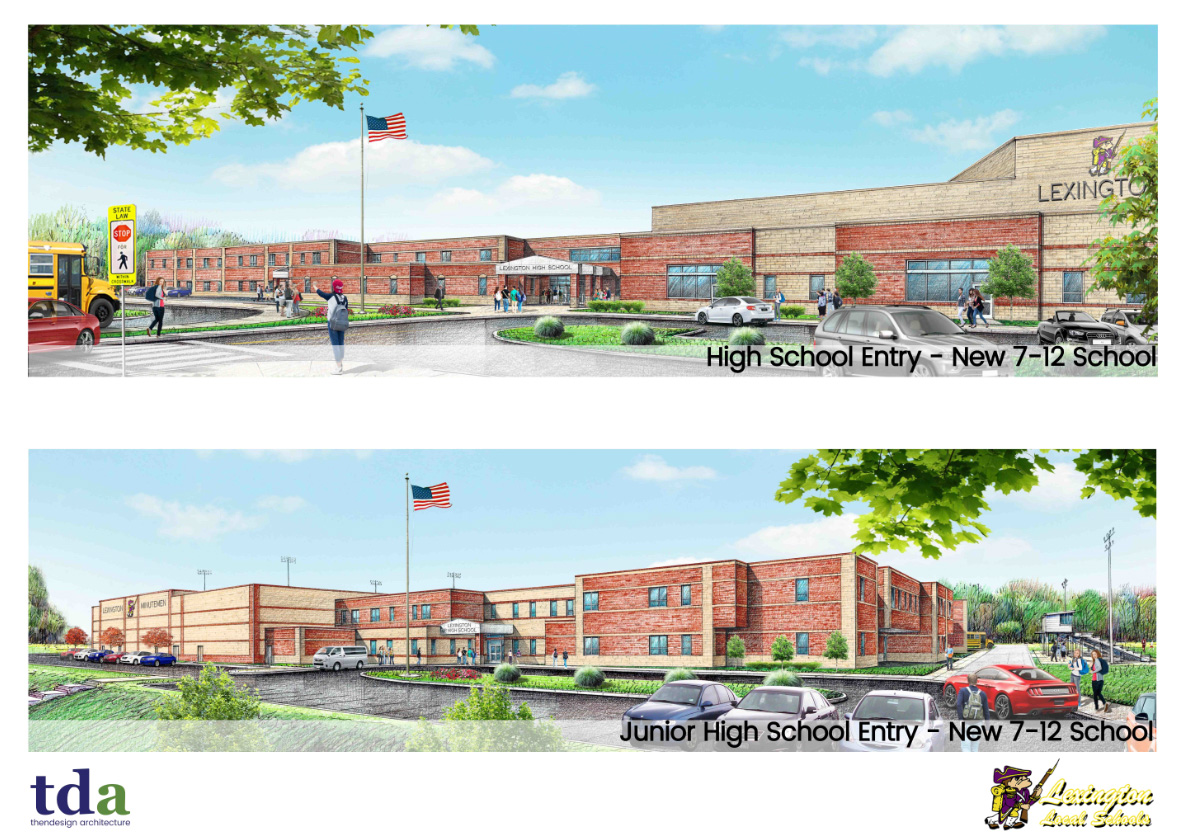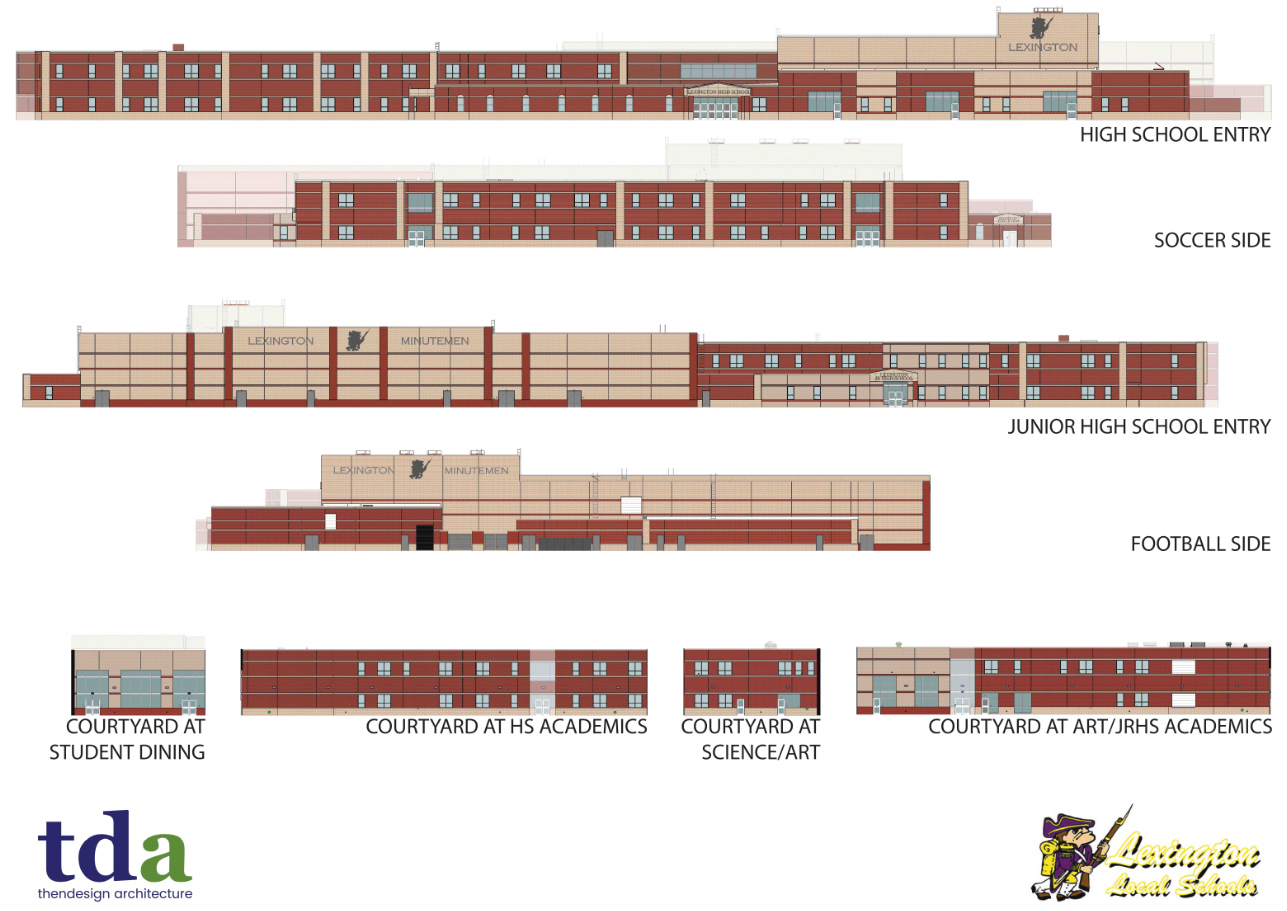 Job Postings
Computer Technician
Please click on the following link for a full list of qualifications/requirements: Computer Technician

Letters of interest, resumes and employment applications must be submitted to Mr. Levi Mowry, no later than 3:00pm on Friday, October 8, 2021 via email at This email address is being protected from spambots. You need JavaScript enabled to view it.
Eastern 1-to-1 Aide
Eastern Elementary 1-to-1 Aide is needed for the 2021-22 school year. This is a Renhill position for an elementary student and the position would start immediately. Interested applicants should contact Assistant Superintendent, Kevin Young at: This email address is being protected from spambots. You need JavaScript enabled to view it. or 419-884-2132.
4-Hr Bus Driver

Lexington Local Schools has a 4-hr bus driver opening available immediately. Please call 419-884-2349. Lexington is also in need of substitute bus drivers. We will do all the training at the bus garage. Call for an application and more information.
Substitutes
Lexington Local Schools is looking for substitute teachers, nurses, aides, custodians, food service, and bus drivers. Please contact the board office if you are interested (419-884-2132).
School Calendars for 2021-2022 and 2022-2023
Below you will see the board adopted school calendars for the 2021-2022 and 2022-2023 school years. To allow ample time to finish the demolition of our existing high school, and to get fully moved into our new 7-12 building, the district will be starting and ending earlier than we typically do next school year, and starting and ending later in the 2022-2023 school year. This will provide the necessary time in the summer of 2022 to accomplish all that will be required for our students to begin learning in the new facility that our community has supported, and has been anxiously awaiting.


Thank you for your continued support of Lexington Schools, and for being an integral part of the district's future. Our students for generations to come will benefit from your support, and our new facility.


Jeremy Secrist
Superintendent
Food Service Update
Recently the USDA extended Free Breakfast and Free Lunch for every student from now until the end of the 2021-2022 school year. What does this mean to your student?


1. One Breakfast and one Lunch free daily


2. Free meals only available on school days


3. In effect until the end of the 2021-2022 school year
4. May choose any of the offered meals


If you have questions please contact Tricia Volz at 419-884-2192 or
This email address is being protected from spambots. You need JavaScript enabled to view it.
Board Approved District Calendars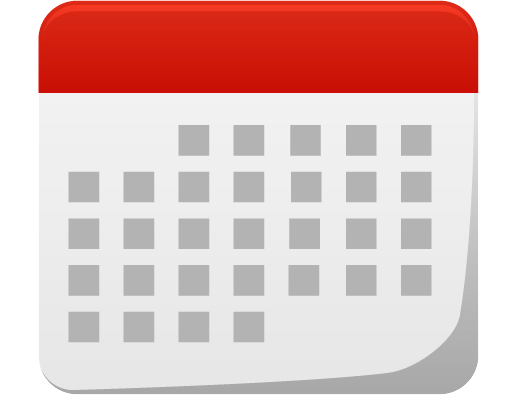 2021-2022 Board Approved Calendar
Reminder of the Laws on Stopping for School Buses
Best advice is if you approach, from either direction, a school bus stopped on or along the road, for any reason, with or without its lights flashing STOP.
We must all do our part of keep our precious children safe on their way to and from school each day. No one should be in such a hurry to jeopardize children's safety.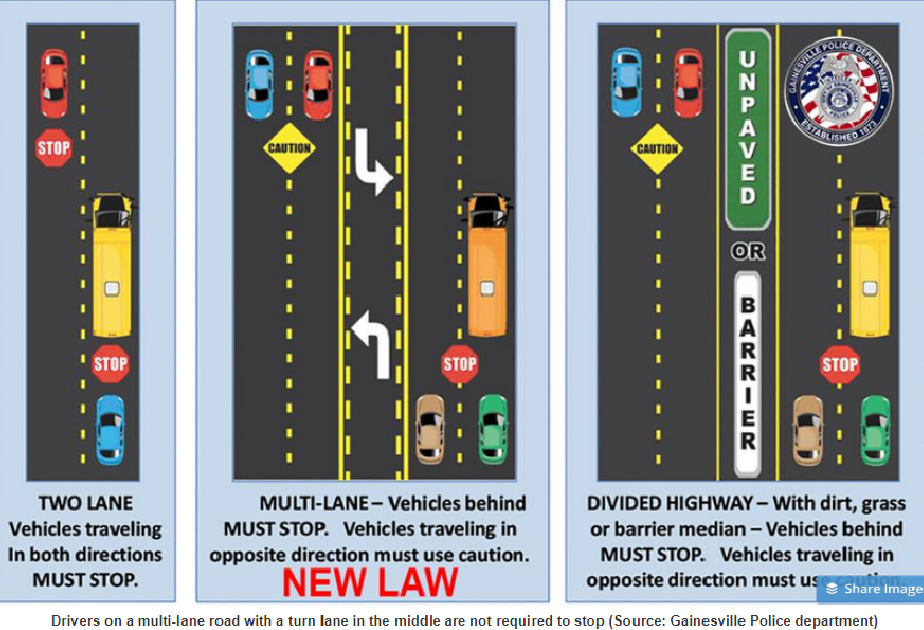 Mission Statement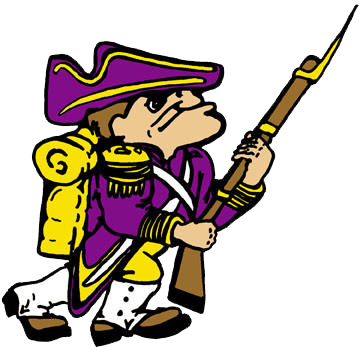 "The Lexington Local Schools, through a partnership

with our children's families and our community, will provide the BEST possible curricular and co-curricular opportunities to challenge all students to reach their highest potential, to enjoy learning and to make positive contributions within their homes and communities."