2019-2020 Supply List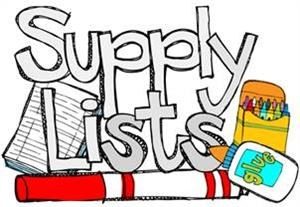 Click Here for the 2019-2020 Western Supply List
Orientation Dates
Kindergarten - August 15, 2019 - 5:30-6:00pm (AM Class) 6:15-6:45pm (PM Class)
First Grade - August 15, 2019 - 5:30pm
Second Grade - August 19, 2019 - 5:30pm
Third Grade - August 19, 2019 - 5:30pm
2019-2020 Kindergarten Registration
2019-2020 Kindergarten Registration
Lexington Local Schools will hold kindergarten registration at Central and Western Elementary schools on Thursday, February 21st from 9:30 a.m. to 3:00 p.m. and 4:30 pm to 7:00 p.m. at Central and Western Elementary schools. Registration will also be held on Thursday, February 28th from 4:30 p.m. to 7:00 p.m.

Your child must be 5 years old on or before August 1, 2019 to be eligible for kindergarten. The following documentation is required for kindergarten registration:
1. Child's original birth certificate
2. Child's social security card
3. Child's immunization record
4. Custody papers (single, adoptive, foster family or name change)
5. Proof of residence (current rental/purchase/lease agreement or
utility bill)
6. Your driver's license
Parents will sign up for a kindergarten screening date & time during registration.
Newsletter

Click Here for the May Newsletter
Dear Western Community and Family,
On behalf of the Lexington Family & Community, it is truly my pleasure to extend a warm and heartfelt welcome to you as we begin the 2018-2019 school year at Western Elementary School. August and September are the times of year to reconnect with old friends and welcome new friends. We at Western are very pleased to welcome everyone to the 2018-2019 school year! To those students and parents who are new to Western we extend an especially warm welcome and best wishes for an exciting and productive year in your new school. We hope that you will quickly feel at home and become involved in the activities of our school through the PTO and your child's classroom program.
In Service to Children,
Genelle Eggerton
Growth Mindset
Our focus this year within our Western community is a Growth Mindset. Each saying will be a focus throughout the school year.
Click Below for More Information about our Growth Mindset and The Lex Way
"The Lex Way...Responsible, Respectful, Ready to Learn"
Military Family Links
Western Library Links