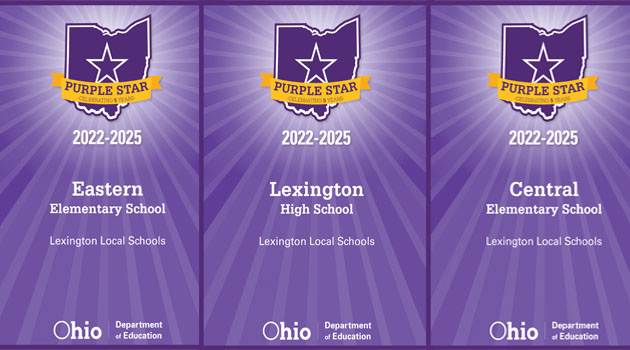 Lexington Local Schools High School, Eastern and Central Elementary have been awarded the Purple Star.
Military families have a unique view of education in America. The average military family moves every 1-3 years depending on the needs of the military. Some of those moves are state to state while others are overseas to foreign countries.
With more than 1.1 million military-connected students attending schools, issues surrounding school transition have become a top priority for families and some schools. Mobile military students face issues such as gaps and overlaps in curriculum, different graduation requirements, course placement disruption and many other hurdles when changing schools. Besides the academic issues, these students also face social and emotional challenges of relocation such as leaving supportive social networks and activities to start new again.
Parents will leave no stone unturned to find that right school that understands the unique lifestyle of military connected students while offering a quality education and resources. Schools near military installation register large numbers of new military-connected students year-round, but they may not necessarily have the tools or resources to support transitioning students.
In the past, parents had to roll the dice when choosing what they hoped was a military-kid friendly school. A school that understood the unique lifestyle of active, reserve or guard families. A school well-versed on Military Interstate Compact of Educational Opportunity of Military Children or the "Compact". (www.mic3.net) A school that understood the challenges of education transition and our highly mobile lifestyle.
The good news for military families is there is a bubbling trend happening across the country. States and school districts have begun recognizing schools that have put in the effort to understand and support military-connected students. In a handful of states, families can now search for schools that have been designated military-kid friendly or Purple Star Schools.