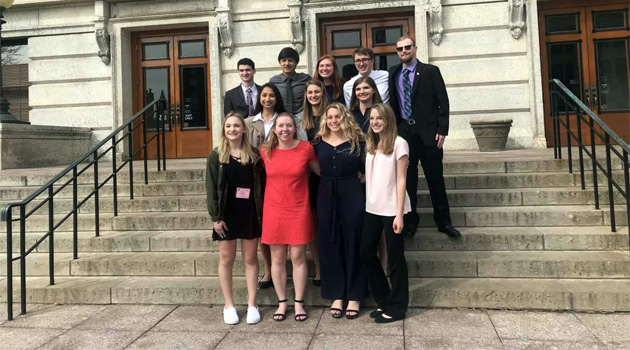 12 Lexington High School students attended the National YMCA Youth and Government program at the Ohio State House last weekend. Students from every corner of the U.S. have the opportunity to immerse themselves in experiential civic engagement and to, quite literally, practice democracy. The program culminates with teens serving as delegates at their state conference, debating bills on the floor of the legislature." (YMCA website source).
Front (left-right): Alaina K., Emma C., Alli Mc., Leah S.,
Second row: Olivia T., Sylvia T. and Jordan H.
Top row: Nick W., Teddy T., Ameilia M., Colin M. and Jacob W
Lexington High School students presented six bills on the legislative floor. Two bills died in committee, one died on the assembly floor, three passed the main assembly, and two were signed into law. Senior Jordan H. and Freshman Alaina K. had their bill to eliminate "Kitten Mills" signed into law. Senior Colin M. and Junior Leah S. had their bill to prohibit smoking in cars with minors signed into law. Siblings Teddy and Olivia T. had their bill that required pedestrians on roadways to wear reflective gear at night vetoed by the YG Governor.
We are very proud of all our future leaders!